Map Sicily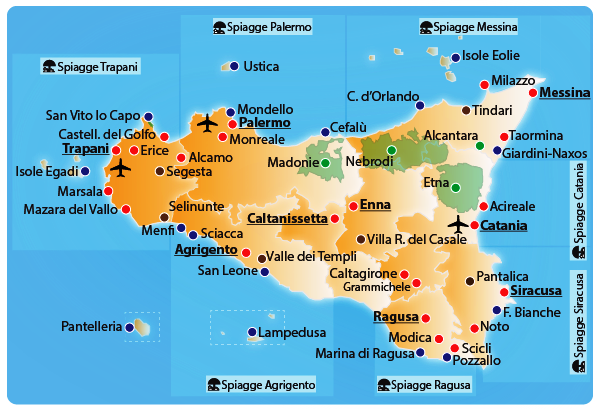 Sicily: For its beauty and for its contrasts the Sicilian landscape is among the most interesting and charming, visited by tourists from all parts of the world. You can admire the coastline of the Cyclops and in the background the snow-covered Etna; yellow expanses of wheat fields and lush gardens with typical Mediterranean vegetation; the lava rocks and citrus orchards in bloom; the sunrises and the multicolored sunsets that redden the deep blue sea.

Provinces: Agrigento, Caltanissetta, Catania, Enna, Messina, Palermo, Ragusa, Siracusa, Trapani. The capital is Palermo and has an area of 25,708 sq km.

Tourist areas: Sicily offers a wide range of tourist offers for its natural jewels and the richness of cultural heritage. Here are just a few of the most popular tourist destinations: Taormina, Palermo, Etna, Agrigento, Syracuse, the Aeolian, Egadi, Cefalu, Erice, Acicastello and Acitrezza, Catania, Acireale, Lampedusa, Ustica.